Carlson Farm
Jun 30, 2016Maylis Pourtau- Intern
On Friday June 24th, the market team went to visit Norm Carlson's farm, situated about an hour southwest from Kalamazoo, in Lawton, MI. Norm and his wife Karen own the land with the help of their son Jordan (full-time) and their two other sons Blake and Seth when they are not working at their other jobs. They own about 240 acres, and run about 550 acres, where they raise cattle, pigs, chicken (eggs and meat), sheep and lambs.
Norm started the visit by showing us a bed and breakfast called Copper Ridge that he uses to run agro-events, such as weddings. The house was built in the late 1890s, and has four suites, a nice open kitchen with a fireplace in the living room, as well as a special room for the parties that includes a bar and a beautiful view of the farm.
He then showed us a building that still is in construction, but will soon be a farm market. The idea is to do it bistro style, where Norm's clients can come and pick up their orders. He set up tables for customers to sit down, and will soon have coffee and ice cream makers for all to enjoy. His goal is to feature products from Southwest Michigan, and explained that if he sells a product from another vendor, he will put a picture of their family and a contact information for the interested. Direct contact is important to Norm because he thinks that people need to know their suppliers, who should have transparency on all levels. In his own words, one of Norm's most important things is that he feels people should know their farmer and food source. Look for the market to open later this summer or early in the fall!
After visiting these places, we went and saw his son Jordan washing the eggs they just had picked up. Norm told us that the hens lay about 150 dozen eggs a day, and that it takes about four hours to collect and manually wash them. They use hot water and an egg wash solution to wash them, however, in a few weeks they will install a new machine that will wash the eggs. This will take less time and effort for them, as the machine will be able to wash twice as many eggs and leave time for other farm chores. After weighing and grading the eggs, they put them in a cooler until sold. The cooler is pretty awesome, because if you don't go in, you cannot guess it is a cooler, as from outside it just looks like a house. Behind the cooler is a freezer where Norm stores meat before it is sold. Norm had mentioned how much he has learnt from the other local farmers that are in the same business, such as Dave from Young Earth Farm.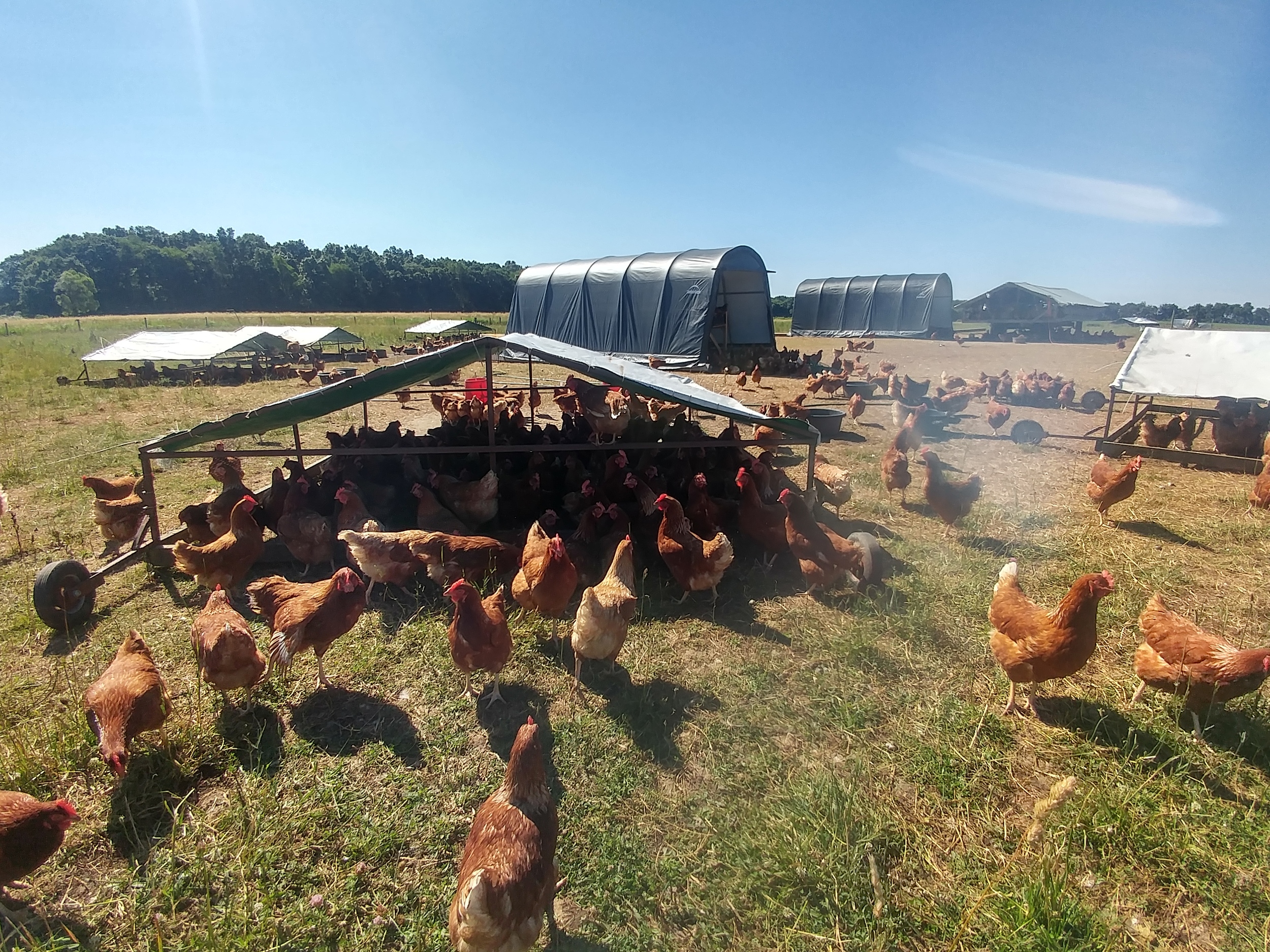 After the cooler tour we drove a few minutes down the road to Norm and Karen's house, which has a beautiful view of Swift Lake. He uses this house to do smaller parties, for ten people or less and its here that sheep, cattle, and chickens are raised. We went and saw one week old chicks, that he will raise until they are eight weeks old. After the chicks, we went to see the hens raised for their eggs. They are raised outside and are fed with corn, soybean and minerals, and most of the feed is actually non-gmo and raised on the farm. As soon as we walked towards the field, most of the 2,000 some flock was running forward to greet us. They are highly sociable, and enjoy wide open fields and "egg mobiles" that offer plenty of shade. Next door lives the cornish rock cross meat birds, which are raised until they are about seven pounds. When the snow hits the birds are moved out of the fields to their winter housing.
At the end of the visit, Norm brought us to see other sheep, as well as pigs that they raise. When the pigs reach 120 pounds, they are in the woods, where they can enjoy being in the fresh air. They have about 5-6 acres lots. During the year, Norm raises a little over 240 market hogs. We can tell that Norm is very attached to his farm. He told us that sometimes, he gets too attached with some ewes, and instead of selling them, he lets them finish their lives on the farm.
Norm was born and raised in this area. He always farmed with his father but in 1985, bought and built his own farming operation. He told us that back then, to be a successful farmer it was vital to have more than one job. He thus worked for national water lift for fifteen years, and his wife Karen is working as a teacher.
Carlson Farm first supplied to people locally before extending to stores, restaurants, and markets. First came Food Dance, then the PFC, Bronson Hospital (all the Bronson Hospital eggs are from Carlson Farm), Latitude 42, KVCC, Sarkozy Bakery, and many more.
You can follow Norm's events here, and can learn more about the house he uses for weddings and other events on http://www.copperridgemi.com. Stop by to chat and learn more every Saturday in Kalamazoo and Sunday in Portage!