Sunlight Gardens
Jul 21, 2016Maylis Pourtau- Intern
Growing up, Devon Wilson and Olivia Jayakar had dreams of becoming a rapper and veterinarian. However, plans changed and the couple now own and operate Sunlight Gardens, an urban farm in Battle Creek. At nineteen, they are currently the youngest farmers on the market!
Devon and Olivia grow on a land leased from Sprout, a non-profit organization in Battle Creek whose mission is to help their community prosper through food, education and enterprise. Devon started farming four years ago through a summer internship program with Sprout, and Olivia has been farming for three years through a similar internship. Currently, Devon goes to MSU for a 9-month program where he learns about organic farming. Sunlight Grands uses organic methods to grow their products, and are hoping to get certified soon.
Someday the couple hopes to have a rural farm with a focus on perennials and permaculture, and plenty of land for animals like chickens for eggs and pigs to help till the soil. For now, urban agriculture is very important for them. Devon grew up in a neighborhood nearby, but he didn't have the same opportunities to grow vegetables like his current neighbors do. They say that one of the advantages of urban farming is having plenty of volunteers, kids and interns to come help them. However, there also are some disadvantages. Olivia told us that once she was growing cucumbers and knew three of them were about ripe, but the next day when she went to pick them one of them had been stolen!
Their biggest challenge since getting their farm one year ago has been staying on top of weeding. Indeed, Devon was at school so Olivia had to do most of the work by herself, which was quite exhausting. Now that the plants have established and there is less weeding to do, it has become easier, even though Devon still goes to school five days a week. Luckily, they now receive some help from Sprout interns and other neighbors that want to help and learn about farming.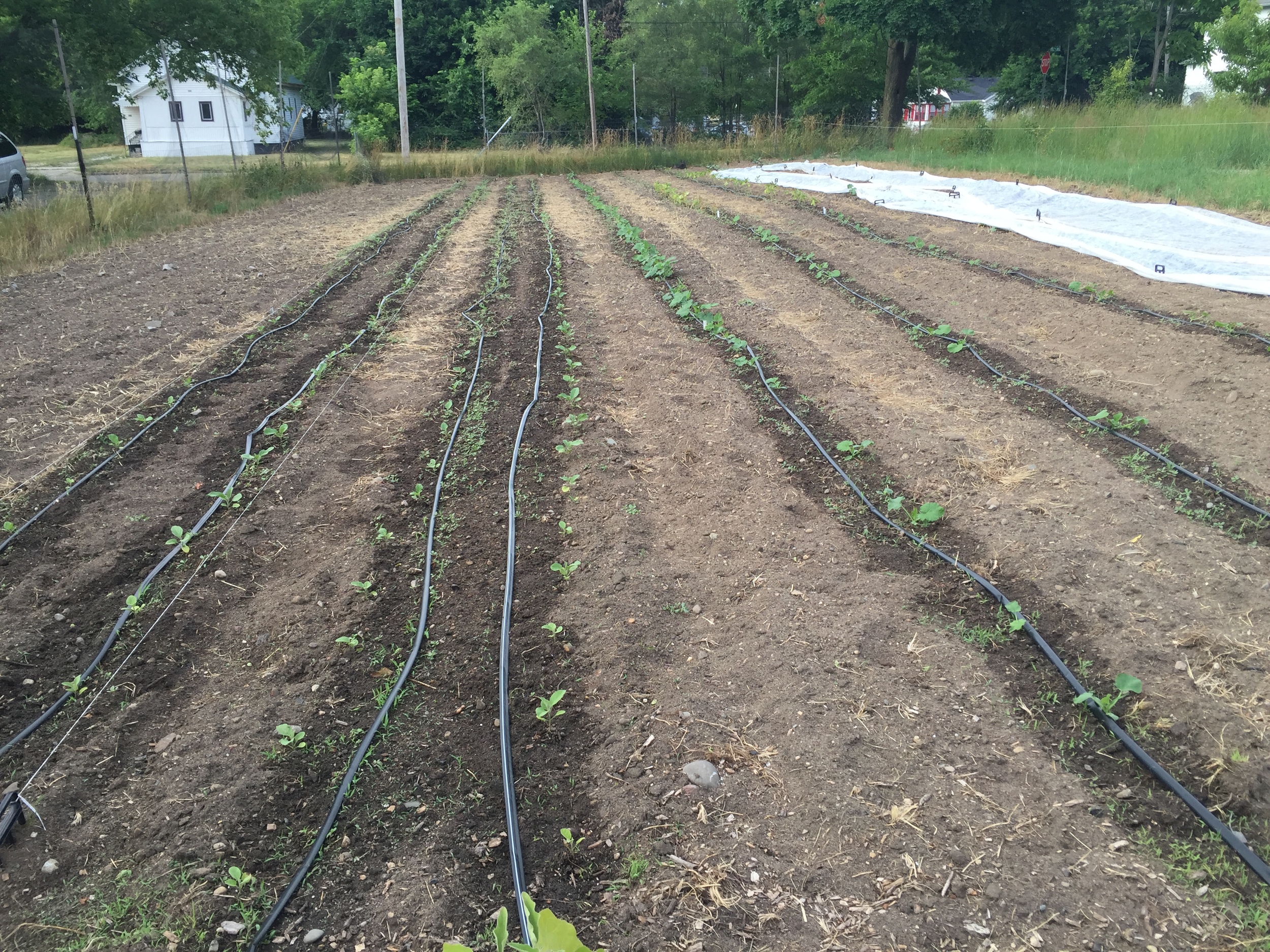 In the future, Devon and Olivia are hoping to have even more volunteers and host events on site. Because they are growing on an urban farm, they have the opportunity to have these events within easy access for people. One of their plans is to fix their outdoor brick oven so they can make pizzas using their own vegetables. It would be a great way to make connections as well as advertize their products!
You can find Sunlight Gardens on the south side of the pavilion at the Kalamazoo Farmers Market. Find them there and add them on Facebook for updates on the farm!